Chef Series Cooking Class Street Food Tacos
March 6, 2020 @ 6:00 pm

-

8:00 pm

$60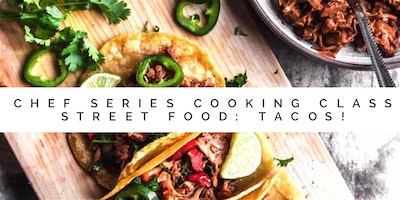 Chef Jason Patel, our master tamale maker, is back and this time he's taking on tacos! One of the most beloved foods, Jason is putting his own twist on all things tacos, from the tortilla to the filling, its all amazing! You'll get to cook alongside our chef in this hands-on cooking class where we will be making four different tacos and all the sauces and toppings that come with it! In addition, Jason will be teaching us how to make the best homemade corn tortillas from scratch! In this class, participants will be in groups preparing one of the dishes to share with the rest of the class. In addtion, recieve a packet of recipes and a full meal. Grab a friend and join us for our Healthy Eats first ever all taco class!
Menu:
Jackfruit Al Pastor Taco with a Pineapple Salsa
Seitan Carne Asada Taco with a Chimichurri Salsa
Lentil Chorizo With "Egg" Breakfast Taco with a Salsa Morita
Bulgogi Tofu Taco with Pickled Cucumbers and Slaw
Dishes are dairy free, most are gluten free, plant based and delicious. Please let us know about food allergies.
Tickets are non-refundable but are transferable to another person. Kids over the age of 8 years are welcome to sign up with a parent. Only 24 tickets available for this class. Sign up soon to hold your spot!
About our chef:
Jason Patel had been the Executive Chef at Virginia Mason Memorial and currently a Culinary Specialist at the Humane Society of the United States. Jason has worked in a variety of positions at restaurants as a garde manager, hot line cook, pastaioli, Pastry Chef, Sous Chef, and Chef de Cuisine gaining a wide range of knowledge that he passes along in his training workshops. Focusing on plant-forward cooking fundamentals and techniques, Jason shows those in his classes that delicious food doesn't always need to be meat centric.
Jason enjoys football (Go Hawks!) and does plant-forward catering when the opportunity arises. Jason is on Instagram @movingplantforward where he shares photos, stories, and recipes.
Only 24 spots available per class. Tickets are non-refundable but are transferable to another person or class one week prior to the class date. Kids over 8 are welcome to sign up with an adult and need a separate ticket. Message me with any questions. See you in class!