Daily Nutrition Cooking Class – Online
January 22, 2021 @ 5:30 pm

-

6:30 pm

$15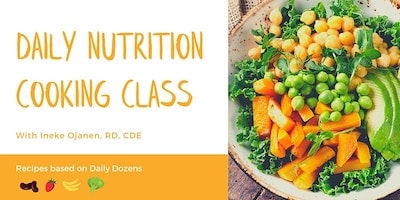 Ever wonder how to fit more of your daily nutritional needs into your meals? Come join Ineke Ojanen Registered Dietitian for the last 11 years as she walks you through the path to healthier meals based on the daily dozen list by Dr. Michael Gregor. Ineke makes eating healthier easier with her delicious recipes that give you the fuel you need to make it through your day. This class will help you take the guess work out of nutrition and give you recipes that will become your new go-to's. You don't want to miss this informational packed online class sure to set you on the road to success!
This is a hands-on Private Facebook Live cooking class and each participant will receive recipes and prep instructions for cooking along with us for three of the menu items before the class. In addition, you will receive cooking instruction, a meal at home, and all the recipes to make over and over again. Sign up by January 21st at 8pm to get your instructions for cooking at home with us.
Tickets are non-refundable but the class can be viewed anytime after the live broadcast. Anyone can watch along with you at home with one registration. Message me with any questions. See you in class!
Menu:
*Golden Milk Latte (demoed)
*Savory Spiced Chickpea Crepe (demoed)
Low-Cal All-Spiced Granola
*Miso Orange Chickpea Salad (demoed)
Quick Instant Pot Lasagna Soup
*Quinoa Enchilada Casserole (demoed)
All the recipes above are included in the recipe packet. The ones labeled as demo you will be cooking at home during the video. You can choose to do all of them or just one or two.