Essentials for the Home Cook: Cozy Fall Favorites
October 19, 2019 @ 11:00 am

-

1:00 pm

$50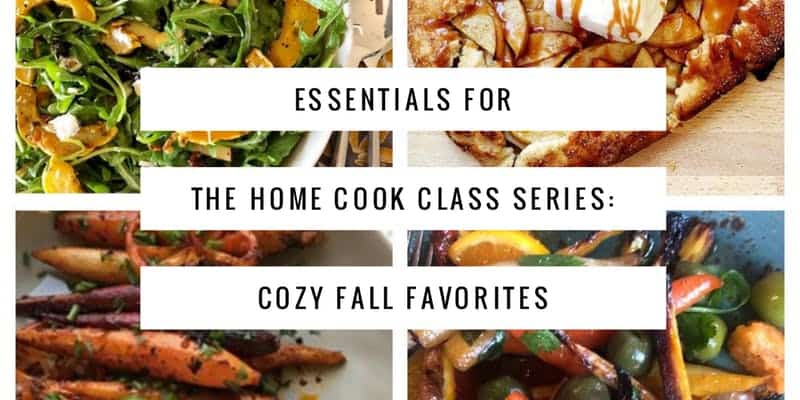 Welcome new instructor Andrea McCoy! In this series, Andrea will demonstrate healthy, elegant dishes simple enough to make at home.
Join home cook, food columnist and the Salt and Stone blogger Andrea McCoy for a class on fun, easy-to-make, fall-inspired dishes. This is the kind of food that draws you to the table and invites you to linger. Roasted veggies, big pots of warm comforting soup and earthy sweet desserts; this is a class with a little something for everyone. Learn new ways to elevate simple vegetable-forward recipes perfect for cold fall nights. We will make five recipes together with time to taste and enjoy the fruits of our labor. This is a hands on style class and participants will get the opportunity to make one of the recipes in small groups to share with the class, taste new dishes, and take recipes home to enjoy many more times. Five recipes total and a whole lot of fun trying new dishes perfect for filling #halfyourplate with delicious vegetables! Only 22 spots available.
Menu
Maple and Harissa Roasted Carrots (df,gf)
Harvest Salad with Roasted Delicata Squash and Caramelized Onions (df option, gf)
Vegetable Ministrone Soup (df, gf option)
Apple and Pear Cardamom Crisp (not df or gf)
Pumpkin Spice Granola (not df, gf)
Tickets are non-refundable but are transferable to another person or another date one week prior to the class date.
Recipe allergyns are indicated above on menu, df- dairy free, gf-gluten free
About Andrea:
Andrea is a mother, wife, cook and writer. With a degree in journalism from WWU, she's a weekly columnist in the Yakima Herald-Republic and regular contributor to Yakima Magazine.
Andrea started the The Salt and Stone blog several years ago combining two great passions: writing and cooking.
The food she makes is rarely fancy, but hearty and fresh. The recipes you'll find are made with fresh, real ingredients perfect for rustic meals meant to be shared.
The rhythm of cooking; the chopping and stirring, tasting and salting brings such pleasure to my life. But gathering around the table, no matter how simple or elaborate, is the best part of cooking.
You can find more from Andrea at www.thesaltandstone.com/blog