Global Tapas Cooking Class
March 31, 2020 @ 6:00 pm

-

8:00 pm

$50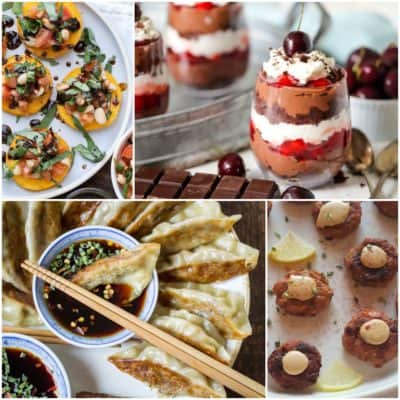 Description
Give this time of year some extra love and attention for you and your special someone. Come join us for a tour of tapas, as we take your taste buds on a journey through different areas of the world! Tapas, typically meaning "Spanish small bites at a bar", is the perfect way to taste fun and delicious flavors and get a variety of dishes at once. Although Paella, a Spanish rice dish, is on the menu we're not stopping our travels there. We're covering dishes from Japan, China, America, Italy, and Greece! You're going to fall in love with the global variety of delicious and creative tapas Lara and I have created! This is a hands-on cooking class and each participant will be in a small group preparing one of the dishes to share with the class. In addition, you will receive cooking instruction, a full meal, and the recipes to take home to make over and over again. Class tickets won't last long, so grab your spot and see you soon!
Only 24 spots available per class. Tickets are non-refundable but are transferable to another person or class one week prior to the class date. All recipes are dairy-free, most are gluten-free, and all are plant-based.
Menu:
Spanish Saffron Paella
Szechuan Peppercorn Mushroom Dumplings w/ Scallion Dipping Sauce
New Orleans Jackfruit Crab Cakes with Remoulade Sauce
Mediterranean Polenta Bruschetta with Balsamic Glaze
Japanese Jalapeno Avocado Sushi Rolls
Italian Chocolate Cherry Mini Trifles
Chef Lara Bodine:
After years of working in health food stores, a love grew in me for the way that food is healing for both our bodies and our souls. Incorporating that passion into cooking for both my family and as a chef with Fat Pastor Productions for catering and our popup dinner club, Bite Club Yakima, has been fun, challenging, and exciting. Using the knowledge I've gained along the way, I look forward to helping you wherever you are on your food journey – while still being able to enjoy savory and sweet treats that don't need a 'cheat' day.
Elaina Moon, BS, ACE Certified Health Coach and Weight Mgmt. Specialist, Owner of Healthy Eats Classroom
Elaina Moon is an ACE Certified Health Coach and Weight Management Specialist, CDC Diabetes Prevention Lifestyle Coach, and holds a BS in Nutrition and Non-Profit Management from CWU. She is the owner of Healthy Eats Nutrition Services and Healthy Eats Classroom and has been teaching cooking classes in Yakima since 2015. She has a passion for helping individuals live a healthy life through nutrition education and health coaching. She teaches two healthy lifestyle classes for Memorial Hosptial: ACT! Kids Healthy Lifestyle Program and Diabetes Prevention Program. In addition, she volunteers her time to nutrition-related non-profits including Meals On Wheels. To find out more about Health Coaching visit: www.healthyeatsnutrition.com.