Greek Mezze Platters -Cooking Classes TO-GO Series
August 8, 2020 @ 4:00 pm

-

6:00 pm

$30 – $60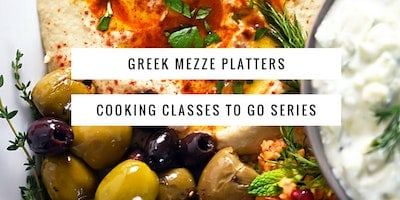 Food to go, recipes, video instruction and a whole lot of fun to enjoy at home.
About this Event
Welcome to the new series of Healthy Eats Cooking Classes, to go! These to go classes are great opportunities to get more Healthy Eats recipes, sample the delicious foods, and get instructional videos from our instructors on how to perfect these dishes at home!
Chef Jason and I love Greek food and all the different flavors you can get in one dish. Our Greek Mezze Platters are just that, a collaboration of small bites and traditional Greek Foods. Each to go platter comes with a variety of items perfect for the whole family. Get one for a relaxing date night, pool party, easy dinner, or gift one to someone needing a meal! These are perfect for all things summer! Pick up your large or small platter between 4pm and 6pm and enjoy it at your location of choice. In addition, you'll receive some of the recipes and a emailed video with Chef Jason and I giving tips and instruction on how to recreate the perfect Greek Mezze platter at home! Spots are limited, so get yours ordered up soon!
Menu:
Quinoa Tabbouleh
Greek Marinated Olives
Marinated Grilled Veggies (served cold)
Roasted Garlic Hummus
Cucumber Tzatziki Sauce (dairy free)
Baba Gannosh
Homemade Feta Cheese (dairy free)
Socca Bread (chickpea flour bread)
Variety of Veggies
Recipes are dairy free, egg free and gluten free! Loaded with veggies and healthy foods!
Register Now
Elaina Moon, BS, ACE Certified Health Coach and Weight Mgmt. Specialist, Owner of Healthy Eats Classroom
Elaina Moon is an ACE Certified Health Coach and Weight Management Specialist, CDC Diabetes Prevention Lifestyle Coach, and holds a BS in Nutrition and Non-Profit Management from CWU. She is the owner of Healthy Eats Nutrition Services and Healthy Eats Classroom and has been teaching cooking classes in Yakima since 2015. She has a passion for helping individuals live a healthy life through nutrition education and health coaching. She teaches two healthy lifestyle classes for Memorial Hosptial: ACT! Kids Healthy Lifestyle Program and Diabetes Prevention Program. In addition, she volunteers her time to nutrition-related non-profits including Meals On Wheels. To find out more about Health Coaching visit: www.healthyeatsnutrition.com.