Weekday Winners Cooking Class
December 6, 2019 @ 10:00 am

-

12:00 pm

$45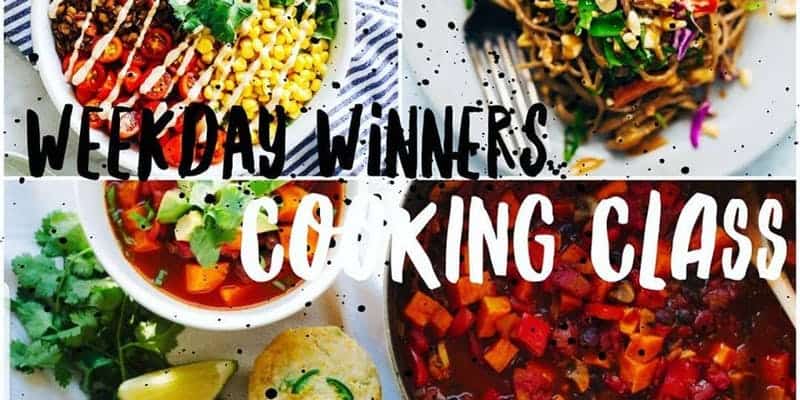 Welcome Gina Prescott to the Healthy Eats Classroom as our newest instructor! We are excited to offer her first class all about cooking for the family and getting everyone involved at mealtime, even the picky eaters!
Putting dinner on the table during a busy weeknight is hard, which is why it's important to have some tried and true winners that are simple to make and the whole family will enjoy. As a mom to three busy (and selective) boys, it's a daily struggle to think of what to make at the end of a long day. In this hands-on class, you will not only learn new recipes packed with veggies and protein, but you will also learn tips for dealing with selective eaters, how to create a positive food culture in your home, and leave with five delicious recipes plus a complete grocery list for making everything in your own home!
This is a hands on cooking class where participants will be in groups preparing one of the dishes to share with the rest of the class. Five recipes available to try in class and take the recipes home to enjoy always. Grab a friend or family member and come enjoy a tasty meal and a fun time!
Menu:
Italian Cauliflower Lentil Bolognese
Hearty Loaded Veggie Chili
Peanut Rainbow Noodles
Yellow Thai Veggie Curry
Lentil Taco Bowls with Avocado Lime Dressing
* This is a hands-on style class. Participants will be in groups preparing one of the dishes to share with the rest of the class. Kids over age 8 are welcome to sign up with a parent who is also signed up.
*Classes are plant based, most are gluten free, dairy free, and most are allergy friendly.
*Tickets are non-refundable but are transferable to another person or another class one week prior to class. Please notify me of any urgency to miss class as soon as possible and I will work with you on options.
Gina Prescott Bio:
Gina Prescott was born and raised in Yakima with a brood of siblings. Returning to the valley four years ago, she felt rejuvenated by all that our valley has to offer. With her husband and three sons she has rediscovered the joy that comes with the valleys accessibility to fresh, healthy and delicious produce.
As a mom with a crew full of energetic boys (her husband included!), Gina saw meal time as a means to connect and strengthen family relationships while building healthy eating habits. Gina has found a passion for creating simple, tasty meals and a positive food environment- even if there is a selective eater at the table! You can find Gina on instagram @sagebrushkids, where she shares tips and ideas about how to enjoy the Yakima Valley with your family!