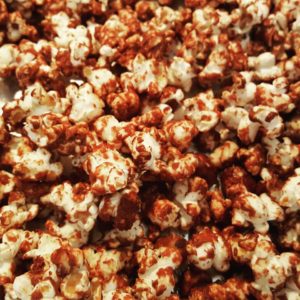 I recently made the recipe for the Healthy Holiday Company's Coming Cooking class and it was a hit. Easy to make, eat, and share. Great for a Christmas gift or snack. Merry Christmas!
Chocolate Hazelnut Popcorn
Serves 12, about 1 cup
12 cups popped popcorn (popped without salt and butter)
½ cup chopped raw hazelnuts
6 tbsp. chocolate-hazelnut spread (Nutella or Justin's)
1/3 cup honey or maple syrup
Cooking spray
Preheat oven to 300 degrees. Spray a parchment or aluminum foil lined baking sheet with cooking spray. Place popcorn and hazelnuts on prepared pan. Whisk together chocolate hazelnut spread and honey in a microwave safe bowl. Microwave for 1 minute or until melted and smooth. Drizzle hazelnut mixture over popcorn mixture and toss gently to coat.
Bake for 14 minutes, stirring twice. Cool popcorn completely before serving.
With Hazelnuts: Calories: 120 Carbs: 15g Fat: 6g Protein: 2g Fiber: 2g Sodium: 50mg
Without Hazelnuts: Calories: 90 Fat: 3.5g