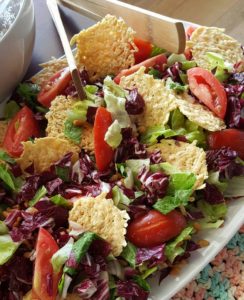 This salad is perfect for a night in, special company, or just wanting to impress in laws with a fancy but not-so-fancy salad. The parmesan crisps make this salad very interesting and different. Bonus: no anchovies in the salad dressing! Most Caesar salad dressing is made with anchovies, this one uses capers. So enjoy!
Company Caesar Salad with Parmesan Crisps
Serves 4-6
For the crisps:
6 tbsp. parmesan, freshly grated
1. Preheat oven to 400 degrees. Place 1 rounded heaping tablespoon of Parmesan on a silicone or parchment lined baking sheet and lightly pat down into a circle. Repeat with the remaining cheese, spacing the 6 tablespoons about a 1/2 inch apart. Bake for 5-6 minutes or until golden and crisp. Allow to cool before removing from the baking sheet.
For the dressing:
¼ cup light or olive oil mayonnaise or Greek yogurt
¼ tsp. pepper or more to taste
1 large clove garlic
1 tbsp. Dijon mustard
1 ½ tbsp. small capers, drained
3 tbsp. water
Juice of half a lemon
1 tbsp. infused garlic oil (grapeseed or olive)
1. Place all ingredients in a blender and blend until smooth. Set aside. Makes 9 tablespoons.
For the salad:
1 medium head romaine lettuce (about 1 lb.), cut into bite sized pieces
1 medium head radicchio lettuce (about 8 oz.), cut into bite sized pieces
3 roma tomatoes, quartered
¼ cup pine nuts, toasted
1. While crisps are baking, place pine nuts on a baking sheet in the oven and toast for 3-5 minutes or until lightly browned. Set aside. Add both lettuces to a bowl, toss with enough dressing to coat lightly, and divide into 6 bowls. Arrange the tomatoes around the lettuce and sprinkle with each salad with pine nuts. Top each salad with a parmesan crisp. Serve the rest of the dressing on the side. Calories: 136 Fat: 10g Carbs: 8g Protein: 6g