I recently had the opportunity to film a four-part segment for KNDO Wake Up Northwest on healthy tailgating.
Two recipes were featured that I believe are tailgating go-tos for most people: nachos and potato skins.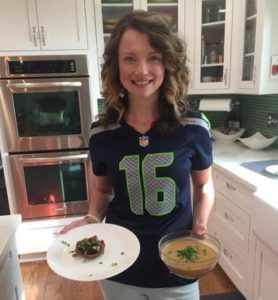 In true Healthy Eats fashion, I put my twist on them to add more nutrition and even flavor so they won't break that calorie bank on game day. When thinking of what to prepare for this tailgating season, remember these basic tips:
Avoid the mindless eating trap. Leave the food in the kitchen and not on the coffee table. Prepare your plate with a serving size of dishes and then go sit down and enjoy the game.
Replace unhealthier foods with foods prepared and cooked in a healthier way. Baked, grilled, air fried, or roasted are all cooking methods that will give that crispy texture without all the frying oil.
Fill up on fruits and veggies first and enjoy smaller portions of the other foods second.
Get in the activity! Football games can be long, up to four hours! That's a lot of sitting and eating. Get up, get moving pre-game to make sure you work off some of that game day calorie increase and keep you feeling healthy!
7 Layer Potato Skins and Plant Based Not-Yo-Cheeze Sauce dishes were featured for the broadcast and I hope will become your new game day favorites! Recipes and video links are up next. Enjoy and happy healthy tailgating!
Healthy Regards,
Elaina Moon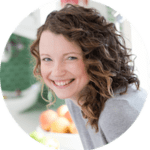 ---
7 Layer Potato Skins Recipe
I love these potato skins, especially in the air fryer. They get perfectly crisp and taste absolutely delicious. Top with fun toppings normally used in a 7 layer dip!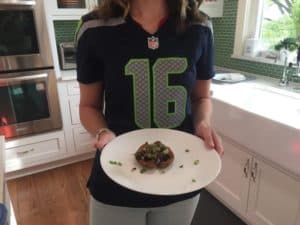 Serving size 4 quarters or 2 halves, serves 4
4 russet potatoes
1/2 tsp. salt
Oil for brushing (olive oil, avocado, or canola) or cooking spray
Directions:
Preheat oven to 400 degrees. Wash and scrub potatoes well. Poke with a fork and place on baking sheet. Bake for 45mins-1 hour or until potatoes are fork tender.
Let potatoes cool for 20 minutes. Cut in half and scoop out flesh, leaving a border around the inside skin. Cut halves in quarters.
Brush or spray both sides lightly with oil, sprinkle with salt and bake flesh side down at 400 degrees for 15 mins. Flip skins over and bake again for 12-15 mins. (If topping with low fat cheese to melt, put on during the last flip)
Top with 7 layer toppings.
Topping Suggestions: diced tomatoes, easy black bean dip, guacamole, green onion, jalapenos.
---
Easy Black Bean Dip Recipe
1 can black beans drained and rinsed
1/2 jar of salsa of choice (approx. 8 oz.)
Directions:
Add both ingredients to blender or food processor and process until blended. Serve with potato skins, whole grain chips or raw veggies. Top with 7 layer toppings and enjoy!
**Calculate calories for the potatoes and toppings separate
*These can also be made in an air fryer on 400 for 10 minutes. If you have an air fryer, I highly recommend using it!
---
Plant-Based Not-Yo-Cheeze Sauce
Here it is friends! Healthy, creamy, satisfying, non-guilt inducing Not-Yo-Cheeze Sauce. Put this on virtually anything and feel good you're feeding you and your family veggies and healthy nuts in their cheese sauce!!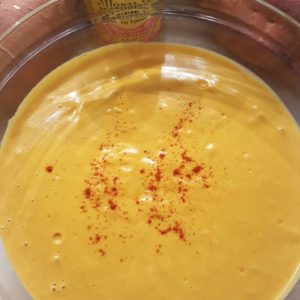 Makes 4 cups, makes 8 ½ cup servings
1 small Russet potato, peeled and cut into chunks
2 large carrots, peeled and cut into similar sized chunks as potato
½ small white onion, cut into chunks
2 cloves garlic
1 ½ cups raw cashews, soaked overnight
½ cup canned fire-roasted tomatoes or Rotel Canned Tomatoes
2-4 jarred jalapeno slices (optional)
2/3 cup nutritional yeast
2 cups water
2 tsp. each garlic powder and onion powder
1 tsp. sweet paprika
Salt and pepper to taste
Directions:
Add the potato, carrots, onion, and garlic to a small pot and boil for 15-20 minutes, or until the vegetables are fork tender. Drain mixture when done.
Add the potato mixture, soaked cashews, tomatoes, jalapeno, nutritional yeast, water, garlic powder, onion powder, paprika, and salt and pepper to a blender and blend until very smooth.
Transfer to a sauce pot.  Heat for five minutes, stirring frequently until sauce is heated through. May need to add 2 tbsp. of water to thin out to the desired consistency.
Calories: 183 Carbs: 16g Fat: 9g Protein: 8g Fiber: 4g Sodium: 100mg
*Be sure to choose a small potato for the recipe or the consistency will be more starchy.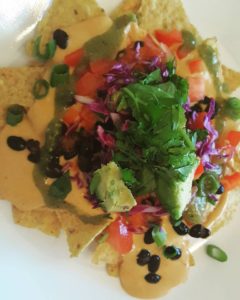 *Perfect for nachos, on potatoes, veggies, or spiralized veggie noodles. The sauce can also be used as a mac and cheese sauce! Add a sprinkle of cheddar for more of a cheesy punch!
*Use sauce in all these tasty dishes:
Pasta, Nachos, 7 layer Dip, Rotel Bean Dip, Baked Potatoes, Veggie Noodles, Baked Potato Soup!
KNDO Video Links: