Reducing Added Sugars, Why is it Important?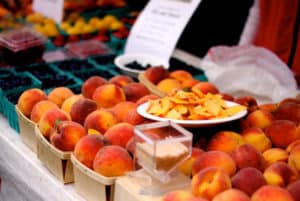 I love peaches, but seriously, who doesn't? We had one rough winter here in Yakima and one of the things I dreamed about was fresh summer peaches. Now that they are here and ripe for the eating, I just can get enough! I have two fabulous peach recipes below, but first let's chat a little about added sugars. A lot of our dessert recipes have lots of added sugar, especially in the summer when pies are a common dessert option. But what does added sugar do to our desserts?  Here's some information about what sugar adds to our food…
Why decrease added sugar? Calorie density and empty calories: Let me explain…
Calorie density is simply a measure of how many calories are in a given weight of food, most often expressed as calories per pound. A food high in calorie density has a large number of calories in a small weight of food, whereas a food low in calorie density has much fewer calories in the same weight of food. Therefore, one can consume a larger portion of a low-calorie dense food than a high-calorie dense food for the same number of calories.
Sugar increases calorie density without adding any actual nutrition. Example: Coca Cola: 1 12 oz. (355 ml) Can contains: 140 calories, 39g of sugar (140 calories from sugar). (4 grams of sugar = 1 teaspoon of sugar, 39g of sugar = ~10 tsp.)
In the example above, drinking one soda gives you 140 calories but no added vitamins, nutrients, fiber, or any real nutrition benefits. Hence, empty calories. Better low-calorie dense choices would be: 2 cups of popcorn, 1 small apple, 1 cup of grapes, celery and hummus (you get the idea)
Instead of added processed sugar to your next dessert, try to explore other options to help decrease the calories and guilt. Some options would be: adding fruit to sweeten desserts, date sugar or molasses as a sweetener, reducing or cutting in half added sugars, or using lower calorie sweeteners such as monk fruit or stevia leaves.
Now you have a short bit of valuable information about calorie density, here are a couple of perfect summer peach recipes that I hope will become some of your family's favorites. Enjoy!
Summer Peach Recipes
Grilled Peaches with Date Caramel Sauce and Raspberries 
This is one of my favorite peaches recipes. Not only is it delicious, but it takes a classic like caramel sauce and puts a new twist to it, making it healthier with much less added sugars. This recipe will wow your friends and family. For a little more flare, add some toasted coconut and chopped walnuts! YUM!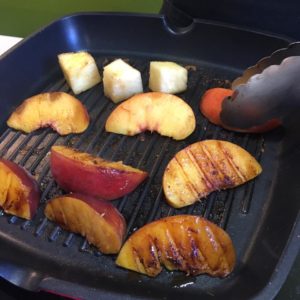 Grilling the peaches is quite easy. You can do it inside on the stove top or on an outdoor grill. Just make sure your peaches aren't too over ripe, otherwise they may stick more.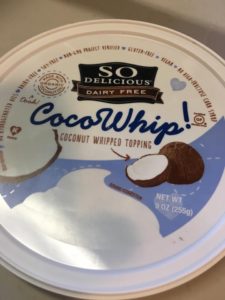 This is coconut whip cream. You can find it in the Huckleberry section of Rosauers in Yakima or at a Whole Foods in larger cities.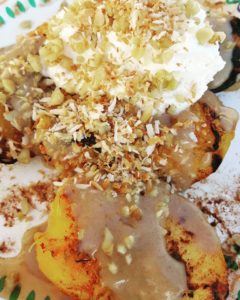 Grilled Peaches with Date Caramel Sauce and Raspberries
Serves 4, half peach per serving
2 ripe but firm peaches, pits removed and cut in half
Cooking spray, avocado or grapeseed
Ground cinnamon
Coconut whip cream, frozen low sugar yogurt, or Greek yogurt (optional)
1 Date Caramel Sauce recipe
1 cup fresh raspberries
Heat a grill to medium, indoors or outdoors. Prepare both peaches by cutting in half and removing pit. Spray lightly with cooking spray on each side and sprinkle cut side with cinnamon. Starting with cut side down, grill for 3-4 minutes on each side or until grill marks appear. Remove from grill and allow to cool slightly.
Transfer each peach half to a serving plate or individual plate and leave as a half or cut into quarters. Add a serving of coconut whip, frozen yogurt, or Greek yogurt to the top of each peach. Drizzle with 2 tbsp. of Date Caramel Sauce and sprinkle ¼ cup of fresh raspberries on top. Serve immediately. Recipe for Date Caramel follows.
Calories: 49 Carbs: 11g Fat: 0 Protein: 1.5g Fiber: 4g Sodium: 1g
Date Caramel Sauce
Makes 16 servings, 2 tbsp. per serving
20 dates, pitted
1 13.5 oz. can full fat coconut milk
1 tbsp. vanilla extract
Couple pinches of salt
Add all ingredients to a blender and blend until smooth. Use a fine strainer to strain out any bits that didn't get blended. Add mixture to a medium sauce pan and cook on medium heat for 7 minutes stirring frequently to prevent sticking. Drop the heat down to low if it starts to bubble and whisk for another 3 minutes. Transfer to a dish and allow to cool or use hot. To reheat the sauce, microwave for 25-35 seconds. If too thick to drizzle, add 1 tbsp. of almond milk or water.                                                                                              Calories: 145 Carbs: 22g Fat: 4g Protein: 1g Fiber: 2g Sodium: 40mg
Peaches and Cream Pops
This next recipe is simplicity at its finest. Such a refreshing yet creamy popsicle perfect for cooling off after a hot day. Don't forget to plan ahead, these do take some time in the freezer. Make some now, enjoy them whenever you need a satisfying dessert!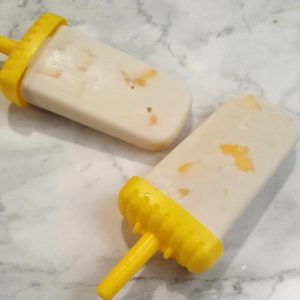 If you don't have popsicle molds you can easily use paper cups and wooden sticks. However, popsicle molds are relatively inexpensive on Amazon.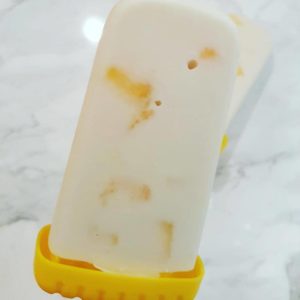 Peaches and Cream Pops
Makes 10 popsicles
1 14 oz. can coconut cream
1 5 oz. peach yogurt, I used Kite Hill Brand
2 medium peaches, peeled and diced small
2 tbsp. agave
2 tsp. vanilla
Add all ingredients to a bowl and stir together until well combined. Pour evenly into 10 popsicle molds leaving about 1 inch from the top of each mold. Freeze for at least 6 hours or overnight. Run the molds under warm water to release the popsicle when ready to serve.
Other variations: try switching out the yogurt and fruit for other fruits like blueberries, strawberries, or raspberries
Calories: 111 Carbs: 6g Fat: 9.5g Protein: 2g Fiber: 1g Sodium: 10mg
Enjoy friends and healthy regards,
Elaina Moon, BS, ACE Certified Health Coach