Since when did healthy cooking become such a task?
I don't know how many times I've heard the phrases, "Cooking is too hard", "Healthy cooking takes too much time", "I just don't feel like cooking".
Not only do I hear these thoughts as a health coach almost daily, but I have said them myself. Let's be honest, cooking takes time, and healthy cooking takes prep, planning, and having some creativity. We try so hard to be perfect, but sometimes we have to give ourselves a break and make cooking fun again.
So put down those cookbooks, stop scrolling through Pinterest and watching those Facebook cooking videos, and get creative with this no recipe recipe.
I don't even have an official name for it, that's how relaxed it is. For the sake of trying to find this on the blog, we'll call it: Pizza Stuffed Portobello Mushrooms.
If I really pull off a win at dinner, my husband always asks, "What do you call it?" I mostly always answer with a sarcastic remark, "Your dinner, that's what".
We joke, but honestly I don't always write things down. This is mainly because I like the freedom of just adding a little pinch of this or a scant of that and not having to use measurements. (That probably is why I'm not a patient baker)
This recipe involves very little prep, planning, or cooking at all. Not only is it healthy, but delicious as well and totally customizable. But don't take my word for it. Give it a try, as long as you are a mushroom lover like me, you'll love it. Read the no recipe recipe, then put it away and have fun. Enjoy!
Healthy Regards,
Elaina Moon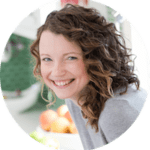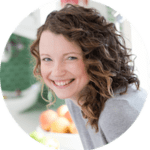 ---
Pizza Stuffed Portobello Mushrooms
Ingredients
Large Portobello mushrooms, cleaned and black inside of cap removed
Marinara sauce of choice, homemade or store bought
Pizza veggies, lots of veggies: spinach, onion, artichoke, olives, bell pepper, anything that goes on a pizza
Mozzarella or Daiya cheese of choice, again think pizza
Fresh herbs (optional)
Salt and pepper
Cooking spray
Steps:
Preheat oven to 400 degrees and line a baking sheet with foil.
Clean mushrooms and add a couple of tablespoons of sauce to the inside.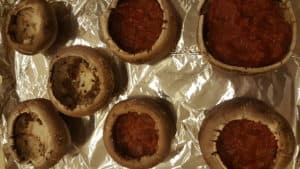 Fill mushrooms with chopped veggies. Here I did spinach, bell pepper, and onion.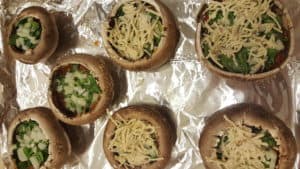 Top with about 1 oz. of cheese.
Spray the tops with cooking spray and salt and pepper the mushrooms.
Bake for 25 minutes or until cheese is melted and mushrooms are fork tender.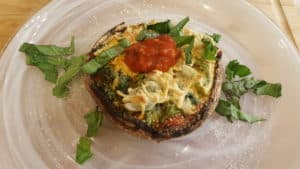 Top with chopped fresh herbs and extra sauce if desired.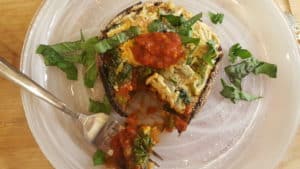 Enjoy and eat often.